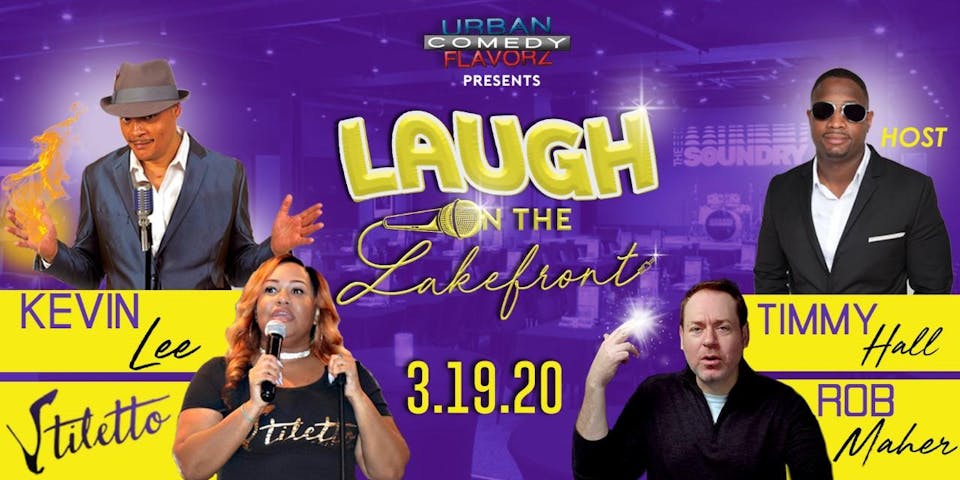 Urban Comedy Flavoz presents
Laugh on the Lakefront featuring Rob Maher, Kevin Lee & Stiletto
$39.00 - $95.00
Postponed
Urban Comedy Flavorz presents Laugh on The Lakefront featuring Rob Maher, Kevin Lee & Stiletto
TICKETS ON SALE NOW -
Sign up for our weekly newsletter to get pre-sale codes
VIP Seated - $39
Seated (GA) - $29 (TICKET PACKAGE AVAILABLE!)
Bar / Standing (GA) - $20
For any wheelchair or ADA needs, please contact the Box Office in advance of the performance at (443) 283-1200.
ROB MAHER
Rob Maher has starred in the Washington, D.C. episode of Kevin Hart's Comedy Central show, Hart of the City. He is a regional winner of Comedy Central's Up Next Competition and is a favorite performer at the DC Improv and Funny Bone comedy clubs all the over the country. Rob's also had the fortunate opportunity to go overseas and perform for our troops. He's performed in 17 countries including Afghanistan, Japan, Kyrgyzstan, Turkey, Italy and Egypt. Rob is a fan favorite on Urban Comedy Flavorz events.
KEVIN LEE
If ever there was a comedian/ magician to be seen, it is Kevin Lee. Kevin's unique combination of comedy, magic and juggling leaves audiences both in awe and in stitches. Lee, has appeared on all of the national television stations on shows such as "Last Comic Standng", "Showtime at the Apollo", HBO's "Def Comedy Jam", and Jamie Foxx's "Uptown Comedy Club", to name a few. He has also has toured with such legends such as Gladys Knight, Chris Rock & Whitney Houston. Lee was also voted "Washington DC's Funniest Comedian" by Washingtonian Magazine. Audiences are wowed by Kevin's amazing juggling, fire and sword-swallowing comedy. Lee, a high-energy, one-of-a-kind performer has brought audiences to their feet worldwide. A rare and true talent, Kevin Lee is not to be missed.
STILETTO
Stiletto is a traveling comic from Baltimore MD with a unique style and flavor along with a powerhouse personality. She travels around tickling funny bones at such legendary clubs & theatre's across the country such as The Apollo & Howard Theater. She has opened for such comedy greats Aries Spears, Eddie Griffin & Godfrey. Leaving crowds speechless with her truly refreshing sleek, dynamic, undefined and unapologetic approach to the comedic stage.
TIMMY HALL
A true standup comic is the only way to describe the 22 year veteran Baltimore City Police Officer, Timmy Hall. With an original style, setting him apart from the rest, Timmy brings that part of his lie onto the stage in a manner that can only be described as pure genius. Known around the country as the "Comic Cop: he has been referred to as the next best thing to hit the comedy scene.

Timmy's high energy, witty material will have you laughing from the time he hits the stage until he says goodnight. Having been performing standup for more than 20 years, he's also a seasoned, eteran comedian, who has truly earned the trespect of some of the most top rated comics in the business. Timmy has appeared on BET'S Coming to the Stage, One Mic Stand, and Comic View, as well as HBO'S DEF COMEDY JAM. He has also performed in some of themost famous comedy clubs throughout the country.

In September 2015, Timmy joined the team of one of the most prestigious broadcasters in the country, as a cohost of the Donnie Simpson radio show on Majic 102.3 in Washington, D.c. If you enjoy standup comedy, sit down but don't dare relax and witness true live comedy at its finest.

Venue Information:
The Soundry
10221 Wincopin Circle
Columbia, MD, 21044